Out of Stock - Cross Petite Bling Round Zircon Pendant 925 Sterling Silver Clavicle Necklace Platinum-Clad Exquisite Gift Box
| | |
| --- | --- |
| Product no.: | FN4368 |
| Your price: | |
| Availability: | On request |
Cross Petite Bling Round Zircon Pendant 925 Sterling Silver Clavicle Necklace Platinum-Clad Exquisite Gift Box
The Cross Blessing Collection
Timeless and trendy, chic silver Jewelry. They are chosen to be comfortable to wear and also because the quality of the materials is regarded as the highest quality for the price.
The design source for this sterling silver piece focusing on the image of petite bling sparkling clear round zircon cross, which reminds us to love as Jesus did.
He took the punishment by which we have peace, and by his wounds we are made well. (Isaiah 53:5) The punishment that brought our peace was on him; and by his stripes we are healed.
We should always remember that when we were yet sinners Christ died for us on a cross, and determining to love as he loved us.
INSTRUCTIONS
1.This necklace has an adjustable extended chain with ternary form design, chain width approx. 0.1 cm. You can wear the necklace that allows you to adjust the length best suited to your needs.
2.Adjust the length of chain to shortest: approx. 40 cm, then wear it as a sexy clavicle chain necklace.
3.Adjust the length of chain to longest: approx.46 cm, then wear it as a standard necklace that help you show off your personal style and look your best on every occasion.
4.Platinum-clad sterling silver jewelry isn't easily tarnished or discolored and, as it ages, it develops a beautiful sheen.
View Specification
Product Name Cross Petite Bling Round Zircon Pendant 925 Silver Clavicle Necklace Platinum-Clad (The Cross Blessing Collection)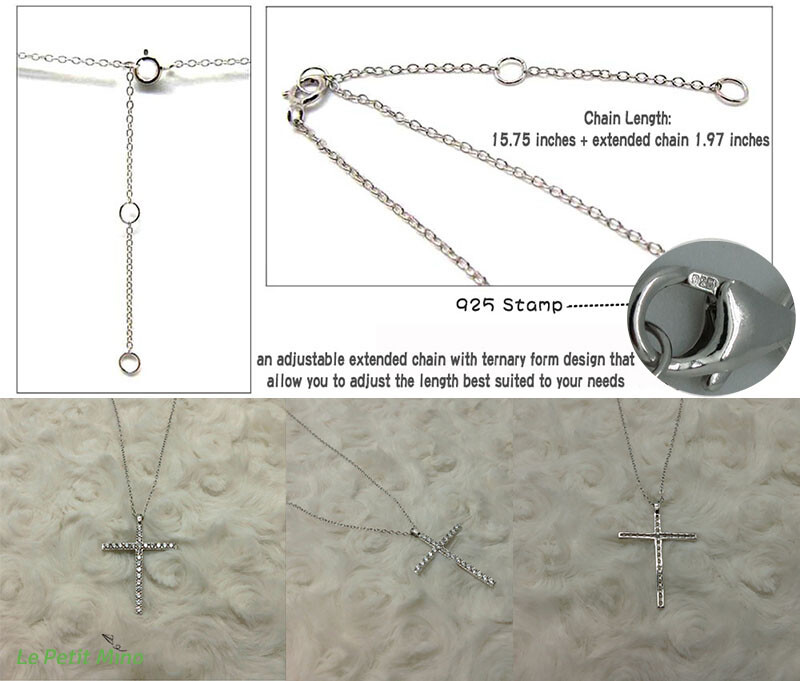 Designed in / Made in Taiwan
Material Sterling Silver, Zircon
Pendant Size 2 x 3cm approx.
Weight 5g approx.
Premium 1 Piece/Exquisite gift box
NOTES TO REMIND YOU
★ Due to the nature of the computer display, the actual colors may look different.
♥ Live Out Love Collection Intro
Just to show you what cross and/or angel necklace members of Le Petit Mino's Live Out Love Collection looks like, which includes Cross Pendant: simple gold-clad/platinum-clad, trapezoid shaped twinkle zircon, four sided mounted petite round zircon, sparkling clear zircon oval shaped, clear classic zircon four-leaf clover shaped, bling clear zircon heart shaped, petite bling sparkling clear round zircon, splendid zircon with pearl; Angel Pendant: sparkling angel, angel in opalite; and bracelet: sparkle pearl chain cross bracelet.
---